The 10 Best Dogs for Kids and Families (Not the most obvious choice)
Most dog owners consider their dogs as members of their families. But when there are children in the house, thoughtful consideration needs to be made to choose the right dog for your lifestyle, living quarters and children's ages. Some breeds are quite
patient with younger kids
, and others are better with older children. Some are happy in urban environments, and others need more room to roam. No matter what, you'll want a dog with an outgoing and friendly personality who is loving and affectionate with the whole family.
What makes a good family dog?
To understand which dog is best for you and your family, we invite you to consider the size of the dog, as well as your lifestyle and what energy level your future pet will have. Whether your dog is a purebred breeder with show champion parents or a shelter mongrel, these three factors can help you choose a good family dog:
Temperament is the character of the dog. You should look for a friendly temperament. For example, a calmer dog is able to form strong bonds and be a great friend to your children.
Size is important when it comes to where your dog lives. It is very important that the dog feels comfortable and cozy in your home. Size should be considered in relation to temperament and energy level. Some larger dogs are more obedient, while some smaller ones can be quick-tempered. For example, if you have a family with small children, a large, aggressive dog can accidentally knock the children down or play dangerous games.
Energy level is a matter of your family's preferences. Be realistic about the lifestyle you can provide for a dog that requires more exercise than usual. If you cannot meet your dog's needs, excess energy can lead to future behavioral problems. 
We at MeoWoofStore reviewed dozens of breeds (falling in love with each one) and chose the calmest and most patient dogs that will endure everything that children can think of. And at the same time, we discovered how to reconcile dog and cat lovers
Golden retriever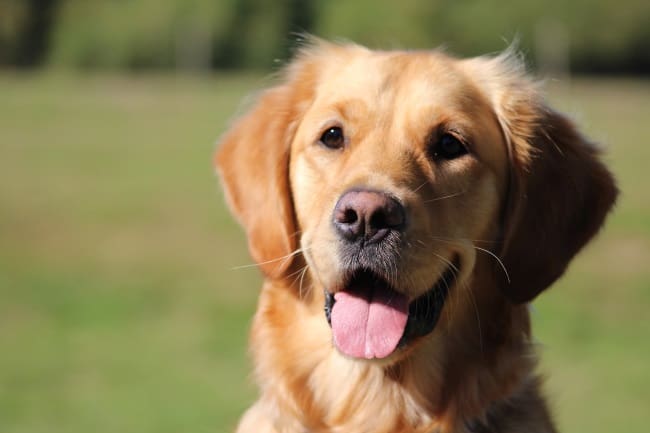 One of the most popular breeds in the world, and for good reason. They are loyal, active and family dogs in the full sense of the word. They love to spend time with people and keep abreast of everything. If your children are constantly visited by guests, you do not have to worry that the retriever will show aggression towards other people's children - these dogs love to make new acquaintances. For the same reason, you shouldn't choose this breed if you need a guard. The retriever would rather bring his toy to the robber and lick him to death than raise the alarm.
Pros:
friendly to people and animals;

smart;

easy to train.
Minuses:
subject to molting;

require long walks with active games;

bad guards;

big size.
Newfoundland
Remember Nana from Peter Pan? The nanny dog ​​who devotedly took care of the children and was the first to raise the alarm when they flew out of the window after the eternally young tomboy? Nana was a Newfoundland and is one of the best breeds for a family with children. Huge, like bears, Newfoundlands at the same time have the charm and patience of a teddy bear and steadfastly endure even the most annoying children's play.
Pros:
friendly;

smart;

born nannies;

easy to train.
Minuses:
subject to molting;

on long wool, they bring dirt into the house;

all will be salivated.
Labrador
Initially, Labradors were bred as assistants to fishermen. They helped pull the nets and served as bloodhounds. But later, for their exceptional intelligence, friendliness and sensitivity, they became the most popular guide and companion dogs. This breed is also often used in the treatment of autism. People trust Labradors with their lives, and that says it all.
Pros:
extremely smart;

friendly;

playful;

easy to train.
Minuses:
require long walks and exercise;

tend to pick up all sorts of "mouth-watering" things like dog excrement or rotten fish from the ground;

can't stand loneliness.
Boxer
Despite their intimidating appearance, boxers are renowned for their good nature and universal tolerance when it comes to children. Perhaps the fact is that boxers remain at the puppy age of up to 3 years, and their playfulness and mobility remain even longer, therefore, like no one else, they understand children's play.
Pros:
good-natured and playful;

do not require complex care;

patient and condescending to children.
Minuses:
cannot stand loneliness;

require long walks and workouts;

They have the longest tongue of any dog ​​breed, and you will see for yourself the first time a boxer licks you.
German Shepherd
German Shepherds are considered vicious and aggressive. And this is true, but only when it comes to strangers. Shepherd dogs adore members of their family and become excellent nannies for kids. These dogs require a lot of walking and exercise, professional training is required from an early age.
Pros:
smart;

easy to train;

tend to patronize and protect children.
Minuses:
not suitable for novice dog breeders;

are aggressive towards dogs and strangers;

very noisy.
English Bulldog
Despite the fact that the bulldog looks like a character from a criminal chronicle, a kind disposition is hidden behind a threatening and brutal appearance. And although this breed can show aggression towards other dogs, these dogs allow people everything. Bulldogs are quite lazy, do not like long walks and are ideal for keeping in an apartment.
Pros:
have a calm disposition;

suitable for beginner dog breeders;

do not require long walks and exercises.
Minuses:
prone to obesity;

very sensitive to cold and hot weather;

have increased salivation.
Maltese
This is a very ancient and noble breed. Maltese lap dogs were mentioned by Aristotle. For centuries they have been companions of the nobility and a sign of luxury. Miniature and playful, Maltese lap dogs are some of the best indoor companion dogs. Although they have long hair, the animals almost do not shed, and therefore they can be recommended even for allergy sufferers.
The lapdog will be an excellent pet for your child, but due to its small size, it is prone to injury if handled carelessly, so you should not get this dog if there are very small children in the family.
Pros:
cheerful and playful;

can live in an apartment without a walk.
Minuses:
have a fragile constitution;

require careful care of the coat, eyes and ears.
Bordeaux Mastiff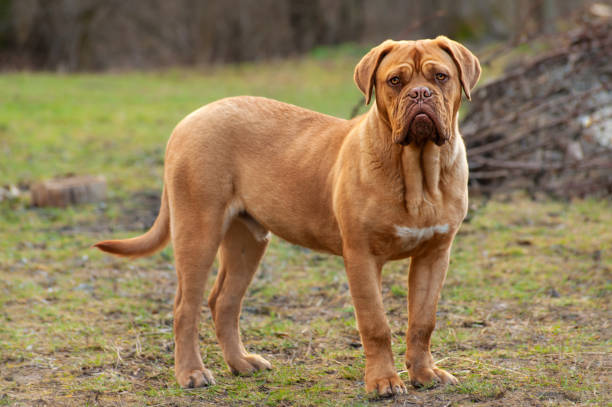 Originally bred as a guard breed, the Mastiffs have evolved over time into a family companion dog. Huge and terrifying in their appearance, mastiffs are guaranteed to scare off intruders from your home. At the same time, they remain good-natured and tolerant when it comes to family.
These giants are not suitable for keeping in an apartment, unless, of course, you are ready to provide them with a separate room so that they can stretch out to their full height. But sitting on a chain or an aviary is also not for them. Mastiffs are best suited to a private home with a fenced-in area to patrol.
This breed is not suitable for beginner breeders. Giants need a steady hand and early training. Although mastiffs will never intentionally offend a child.
Pros:
good-natured, have a calm disposition;

rarely bark;

do not require long walks.
Minuses:
not suitable for keeping in an apartment;

are aggressive towards strangers and dogs;

prone to flatulence.
Shar Pei
Well, how can you not fall in love with this dark blue tongue, folded skin and swollen nose, as if it had been in a bee hive? Sharpei look unusual. But you should not be deceived by their cutest appearance: they are quite difficult to maintain. These dogs were bred as palace guards in ancient China.
Shar Pei is a dog of one owner, but he considers the whole family and pets living in the house to be a pack, so he will take care of and protect them from strangers.
Pros:
suitable for keeping in an apartment;

calm and patient;

bark a little.
Minuses:
distrustful of strangers;

short spiky hair can cause allergies.
Black Russian Terrier
As soon as this breed is not called: Stalin's dog, bear schnauzer, black pearls of Russia. Russian black terriers were bred by the Kremlin dog handlers in the late 1940s - early 1950s. The Giant Schnauzer, Rottweiler, Airedale Terrier, Caucasian Shepherd Dog and Newfoundland took part in the creation of the breed. Initially, black terriers were planned to be used as a border dog, but due to their intelligence, learning ability and calm nature, blackies are in demand in the police, therapy and have become excellent companion dogs.
Black terriers are so smart that it's even intimidating. If you are not ready to keep a dog in the house that is smarter than you, forget about this breed. These bears adore their owner and take care of all his family members.
Pros:
smart and easy to train;

have a calm character;

are silent and bark only when necessary.
Minuses:
wary of strangers;

not suitable for novice dog breeders;

stubborn.
Bonus: dogs that get along well with cats
Labrador;
Beagle;
Cavalier King Charles Spaniel;
Maltese;
Bichon frize;
Pomeranian;
Shih tzu;
Boxer;
Australian Shepherd
Japanese Chin;
Cocker Spaniel;
Yorkshire Terrier;
Pekingese.